"Dear Santa,
I've been a good boy this year and this is what I want for Christmas. Read below.
Love Adrian"
One gift that I'm hoping to get under the Christmas tree this year is the BeoSound 8 by Bang & Olufsen.
Renowned for breathtaking sound quality and iconic styling, Bang & Olufsen have once again designed a standout electrical piece of art for your home, perfect for the bedroom, kitchen, retreat or dining room. There really isn't a place you can't put this piece.
Where ever you want sound, your BeoSound 8 can go. All you need is a power outlet and an iPod, iPhone or iPad which sits securely in the adjustable holder. You're then ready to go, so be prepared for the awesome sound that is about to grace your ears.
You can also download an app version of the sleek and stylish BeoPlayer for your docked iPad, iPhone, or iPod. You can also adjust sound levels and skip tracks quickly and conveniently on BeoSound 8 itself. Music on a docked or USB linked device can be controlled via the dedicated round remote control.
The conical shape of the speakers is designed this way to create an unobtrusive impression, as well as eliminating standing waves, by avoiding parallel surfaces.
BeoSound 8 comes in either black or white with aluminium details and matching power cord. When you feel the need to add a splash of colour to the room, the list of options includes six fabric speaker covers in yellow, orange, red, silver, black and white.
Check out the video below for a little tour of the BeoSound 8.
Available at Bang & Olufsen stores for approx $1,500. Visit online for locations: www.bang-olufsen.com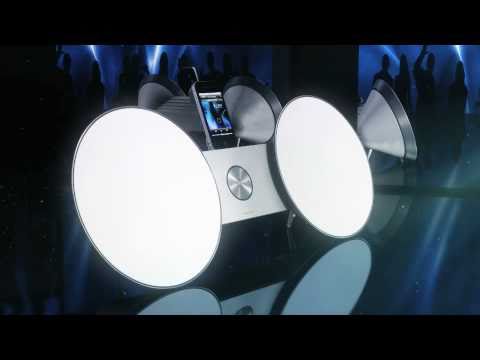 Thanks Santa!