Tag Results
ADRIAN CAN'T COOK with Bianca and Maria Venuti – Episode 1 – Part 2
July 16th, 2013
ADRIAN CAN'T COOK with Bianca and Maria Venuti – Episode 1 – Part 1
June 12th, 2013
This is the first official Adrian Can't Cook video.
The first special guest is Bianca Venuti teaching me how to make an easy Italian specialty.
Check out what fun and games we get up to and who the special guest may be… There may even be a little performance!
Enjoy.
Adrian
Facebook: AdrianCantCook
Twitter: @AdrianCantCook #AdrianCantCook
Web: www.AdrianErdedi.com
SPECIAL THANKS:
NaraCamicie Sydney – www.NaraCamicie.com.au
Bruce Lynton MINI Garage – www.brucelynton.com
#adriancantcook
STUNNING NEW CONCEPT STORE 'THE APARTTMENT' SET TO OPEN AT IVY
May 11th, 2013
THE APARTTMENT, a stunning new clothing and furniture concept store, is set to launch at ivy's coveted retail laneway in May. Inspired by a chic Parisian boudoir, THE APARTTMENT is a charming new retail experience offering a range of quality brands and products suited to the many aspects of a woman's lifestyle and personal living space from home furnishings to fashion and beauty.
I went to the media launch so i could smell, taste, touch and experience the store in all its glory.
The beautiful store is the brainchild of Claire Coppins, the creative force behind fun and rebellious Australian fashion label, Tighttigers, known by many simply as TT. Infused with Claire's innate creative flare and penchant for soft fabrications, sensual silhouettes, natural tones and understated luxury, THE APARTTMENT is designed to feel as if you are strolling into a stylish apartment of chic friend in Paris. The boutique is filled with gorgeous products from an array of complementary fashion, home furnishing and beauty brands, carefully selected by the talented young designer to reflect an effortless sense of luxury and aspiration at an incredibly accessible price point.
Everything in the store is available for purchase – from Tighttiger's signature range of blazers, silk dresses and jersey basics, shoes from directional footwear brand Senso and beauty products from Bloom Cosmetics to key furniture pieces from online furnishing brand Max Sparrow, luxurious handwoven rugs by Cadrys and innovative lighting installations from Zaffero.
THE APARTTMENT will also stock high end leather jackets by Paris-based luxury label Nour Hammour, gorgeous silk scarves by Yassin Lahmar and stunning jewellery from the girls at SFLitter. Keeping with the intrinsic French theme, the store also offers a relaxing space for those special tête-à-têtes where shoppers can sit back and enjoy teas from T2 and gorgeous treats from Merivale's own Lorraine's Patisserie.
Claire's vision for the store was to create a retail space that looks and feels like you have just walked off the streets of Paris into her home – "I wanted to offer a unique shopping experience, a boutique where you can come in, take some time out, explore the treasure trove of charming products, sit back with a cup of tea and relax. The brands have all been individually chosen to offer something special for a woman's personal life".
THE APARTTMENT joins a host of Australia's leading retailers that call ivy's fabulous lifestyle precinct home including celebrity and editorial hair maestro, Brad Ngata, sleepwear king Peter Alexander, multi-brand fashion boutique Elsewear, the yoga-inspired athletic apparel company LuluLemon Athletica, the sartorial craftsmanship of Zimma Tailors, the delicious Cupcake Bakery and boutique wine retailer, The Bottle Shop
Venuti's Sicilia Tour
March 9th, 2013
An authentic trip around Sicily with the fabulous mother and daughter duo, Maria and Bianca Venuti. Eating at amazing restaurants and spending time with local families. Drinking fine local wines and eating the best cheeses.
This sounds like the perfect holiday to me. Who's in?
It's Venuti's Sicilia Foodgasms – the ultimate food and wine tour!
Join Australian/Italian showbiz icon Maria Venuti AM and her beautiful 'buongustaio' (food connoisseur) daughter, Bianca Venuti, for a once in a lifetime tour of their Sicilia.
The Venuti's will share with an exclusive group of 14 guests their passion for the best local food and wine. The experience includes stays at luxury Sicilian hotels; stunning sights such as Mt Etna, the Aeolian islands, and Agrigento Valley of the Temples; cooking lessons and fresh ricotta making; winery visits; and nightly fine dining, including a special 12 course degustation dinner at two Michelin star restaurant, Il Duomo. The final evening will see Maria entertain guests at a gala dinner with the Venuti family in Messina.
The 12 night tour starts from Palermo: 22 June to 4 July 2013, priced at $8,900.
For bookings and enquiries, phone Catarina at ATI tours on (02) 9798 0588 or see HERE!
Simone's Celebrity Birthday Video – by Adrian Erdedi
May 18th, 2011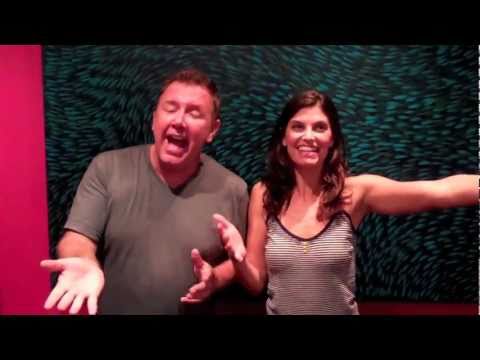 On the 25th of April, it was my little sister Simone's birthday.
I spent a couple of months getting footage together of people she knows and loves wishing her a happy 24th birthday. I gave Simone the video, and she absolutely loved it – she was beside herself.
She is a smart little Down Syndrome girl, she's very clever, she's fun and most of all, she is lovable. She loves celebrities, she loves television, she loves movies and most of all loves music. So I made sure I asked the people who will make her smile.
I never planned to make this video public, but I thought it would be a great way to raise awareness about Down Syndrome and urge that everybody does their bit to help these beautiful people feel part of the community. If you want to donate money to the Down Syndrome Association in your state, that too would help tremendously – aiding the people who aren't as lucky as my sister having a loving home and family around her all the time.
A massive thankyou to:
Carmelo Pizzino
Simone, we all love you very much and we all hope you had a wonderful birthday!
Love Adrian xox
MARIA VENUTI Performing at Slide Bar & Cabaret – May 12th
April 28th, 2011
MARIA VENUTI TO PERFORM AT SLIDE BAR & CABARET – THURSDAY 12th MAY
"I Am What I Am"
Following the launch of her memoirs 'A Whole Load of Front' and the celebration of her LXX birthday, Maria Venuti, will once again grace the stage of Slide Bar & Cabaret on Thursday May 12, 2011.
Maria Venuti's production I am what I am, will see Venuti centre stage accompanied by her live band. Even the party girl, Venuti will illuminate the stage sharing songs and anecdotes from her glorious fifty year career. With her keen wit, glittering stage presence and exuberant character this extra special performance will keep the audience enraptured and is certain not be dim.
I am what I am performed by the flamboyant Aussie showbiz icon, and her live band will be part singing, part comedy, all entertaining! Thursday May 12 is a marvelous opportunity to witness one of Australia's most talented and colourful performers up close and personal.
I am what I am at Slide Thursday, May 12, 2011. 41 Oxford St, Darlinghurst.
Two course dinner and show: $70 OR Show only: $30 - Doors open at 7pm for dinner, show to commence at 9pm.
Book now!
Online at www.ticketek.com.au, phone: (02) 8915 1899, visit www.slide.com.au OR email: bookings@slide.com.au.
Get Prepared For a Season Of Leopard
March 11th, 2011
On Monday the 7th of March, I celebrated Maria Venuti's birthday which was a momentous occasion. But who other then Maria Venuti can be the biggest advocate for leopard print clothing? It has to be Estilo Emporio.
It's all about prints, and to celebrate Maria's birthday, I've chosen just a few of the leopard print accesories you can purchase from the very sexy Autumn/Winter 2011 collection.
Bag: $485, Shoes: $399 and Belt: $99.
Visit www.estiloemporio.com.au or the store – 168A Lilyfield Rd, Leichhardt.
Maria Venuti Book Launch: A Whole Load Of Front
March 10th, 2011
It was the party to be at, and to be seen at. Maria Venuti's book launch for A Whole Load Of Front.
Also falling on her actual birthday, March the 7th saw many young and old celebrities, politicians and wealthy socialites fill the famous corporate fat cat hang out, Machiavelli on Clarence Street in Sydney.
It was truly a celebration of the fabulous, vivacious and exuberant life of Maria Venuti – which is now all documented in an entertaining rollercoaster of emotion, struggle, fame and secrets which are out on the table for all to read.
Draped in leopard skin ruffles and with her best assets to the fore, Maria's book took centre stage next to a massive cake designed exclusively for Maria by Planet Cake. 'It's a bushfire darling' said Maria as she blew out the 70 candles.
The honorary Alan Jones began the proceedings, to an audience including the contender for NSW Premier Barry O'Farrell, Shadow Treasurer Joe Hockey, Marie Ficarra, Max Markson, Henri Szeps, Peter Everett, Glenn A Baker, the delightful actress Lorrae Desmond, gorgeous Melissa Hoyer and Mary Lopez.
Alan Jones talked up Maria's humble beginnings as an Italian living in Australia before revealing the moment that changed Maria's life forever. Stood up by her date and standing on a Kings Cross sidewalk, Maria was invited by the legendary Ron Roman to one of his smoky jazz lounges. One coffee later and Maria had landed the singing role she was destined for.
Maria laughed, cried and shrieked with delight as Alan broke into song, "I just met a girl called Maria!"
But there was a serious tone to the evening, as Alan goes onto say, "For years, Maria has entertained the world, bringing happiness to everyone. Tonight those same people, from the highest level of politics like Barry O'Farrell and Joe Hockey and entertainment, made it their business to salute Maria. It is rewarding for Maria but gratifying for everyone as they had a chance to pay a long overdue tribute to an Australian icon."
Stay tuned for a review and excerpts from the book – I promise this will be one you'll be hanging on for!
Maria Venuti – The Mother of Australian Entertainment
September 6th, 2010
Chances are you will hear Maria, before you see her. Then when you see her, you will instantly smile.
Maria Venuti is one of the most outrageously effervescent people I have ever met in my life!
From the giant light brown bouffant that sits on her head, the long eyelashes with diamantes, to the floor length Leopard print kaftan, Maria is one person you are instantly attracted to. Her enormous laugh and hilariousness is infectious – you are then trapped in Mama Venuti's private little world where everything is about having fun and living life to the fullest.
She is a great Australian icon, performing for thousands of people for longer then most of us have been alive. Her Italian heritage brings out her eccentricity on stage.
Lets get to know this goddess as we are welcomed to the world of Maria Venuti…
What projects are you currently working on or have in the near future?
I've just finished filming a movie called 'Bathing Frankie' with Henri Szeps, young actor Shaun Goss and first time director, Owen Elliott and writen by the brilliant Michael Winchester.
I'm looking forward to my role in Frank Lotito's 'Big Mamma's Boy', filmed in Melbourne with Holly Valance in April.
There's also my first CD in the mix!
I'd love you all to come and see my show at Kit & Kaboodle at The Sugarmill on Sunday night, 21st of March. I guarantee a night of great songs and a fun time!
Who or what influences you most in Fashion and home décor?
Animal print!!
What is your favourite piece of clothing or accessory?
Too much to choose from. But if I have to, my crazy hats!
Do you have one feature in your home you love most?
I have hanging over my fireplace an exotic papyrus of King Tut (Tutankhamen) I bargained for when I was doing concerts in the Sinai Desert with the pride of Australia – Rolf Harris.
What is your greatest extravagance?
Rome…ahh!! Bella Roma!
Greatest lesson learnt?
Be true to yourself… please.
What advice would you give someone if they were thinking of a career in your industry?
Come and see me – let's talk!
Which celebrity wardrobe would you love to raid and why?
I can't make up my mind between Lady GaGa Or Sophia Loren.
How did you get into a life of performing?
Totally by chance. I'm not a person who plans. Live for today and let life surprise me tomorrow.
What is your one design rule you like to stick to around the home?
Animal print.
My Mother/Father always told me…
Always… just-a-be-a-yourself-Maria. Honest, considerate and passionate.
Is there a cause that is close to you and if so, why?
I love my charity work – it is fulfilling and everything I'm involved with is close to my heart. Like The Variety Children's Charity, The Cornucopia Committee – raising $'s for the support of abused children. Humpty Dumpty – supporting children's hospitals. The Australian Ladies Variety Association, it's a show-business charity that does marvelous work.
Where is your favourite place to relax in Sydney?
Relax?!?! What does that word mean?!! If and when I do, and I'm in the city, my favourite place to take time out is a beautiful small park right next to The Park Hyatt. There are six date palms there and the lorikeets fly around enjoying incessantly chatting and the views are spectacular.
How often do you eat out and cook at home?
I eat out often and cook often. I adore both!
I savour all the different types of foods and experiencing the flavours Sydney's world class restaurants. My favourite of all is to entertain with dinner parties at home with friends, family, candles and a beautiful interesting theme.
Signature dish?
My daughter Bianca and I were recently in the historic town of Italy's Peruggia for cooking classes. At the moment I'm loving this very simple dish that Andrea just 'whipped up'. Veal steak, prosciutto and sage. Hold them together with a large wooden pick, place into very hot extra virgin olive oil for only two minutes and serve with a side of vegetables. I love steamed beans with a combo of oil, mint, garlic – 'piacere'.
Your thoughts on Australian fashion in comparison to International fashion?
Basically I have my own crazy style, sometimes in the best dressed list, more often then not in 'the worst dressed list'. But I hope never boring!!!
I design a lot of my own showbiz and social fashions… Oh!! Australian fashion is up there with the best in the world although the budgets are very different, but our fashions are hot and NOW!!!
The one thing I can't leave home without is…
My eyelashes!!
What frustrates you most about Sydney?
On the Anzac Bridge, the speed limits go from 60 to 40 to 50! Cross City tunnel – 80 to 40!! That's the problem! The change of speed limits in a few hundred meters! That really frustrates me!
If you were Clover Moore, what would be the first thing you'd inject money into fixing?
Circular Quay railway station and Cahill Expressway! Its hideous and the facade is just an eye sore.
Favourite beach in Sydney and why?
North Bondi gently surfing with friends, then off to North Bondi Italian for lunch and then call into Camilla's for a new kaftan!!
If you could be a fly on the wall of any celebrity home, who's wall would you like to sit on?
Brangelina's – to find out what's really going on!
Three pet hates?
Bullshit.
Hypocrisy.
No manners.
Fashion and home must-have's?
Animal print… For fashion and home!
I've been in that jungle forever…
What is your one diva demand when performing?
All my stage costumes are 'boned to oblivion'. So I once employed a very strong young Darling to do my hooks and eyes up before I went on stage. Ooooooo!
What a women! Don't forget to see this icon perform on the 21st of March at Kit & Kaboodle.
Visit www.moshtix.com.au/event.aspx?id=35060&ref=moshtix for tickets. Dinner and Show options available.
Maria Venuti "I'm Still Standing" At Slide Bar
June 4th, 2010
My favourite Mama of all is throwing another party for us to prove that she is "Still Standing".
Maria Venuti is holding a cabaret show called "I'm Still Standing" at Slide on Oxford Street, Darlinghurst. She is one of the most recognisable Australians with one of the most distinct shows you will ever see!
Make sure you book tickets ASAP to see Maria sing some of her favourtie songs in the live and intimate show with musical director Trevor Ashley and a three piece band.
Slide Bar, 41 Oxford Street, Darlinghurst
Wednesday June 16th
- 7pm Dinner & Show $70pp
- 9pm Show Only $30pp
Tickets: (02) 8915 1899 or www.ticketek.com.au
Maria Venuti at Cosmopolitan Piano Bar, Double Bay
April 27th, 2010
What are you doing this Saturday, the 1st of May?
Nothing? Well you have something to do now…
One of my favourite and wonderful Australian female performers, Maria Venuti is doing an exuberant show at the Cosmopolitan Piano Bar in Double Bay.
Recently renovated, the piano bar is now an exceptionally appointed space, which is perfect for the Queen of entertaiment to fit in and feel at home – performing for you "Up-close and Very Personal."
With musical director and very funny man, Trevor Ashley taking the stage with her, you are set for a grand night of fun and laughs.
Dinner and show or just show tickets available from www.moshtix.com.au or 1300 438 849.