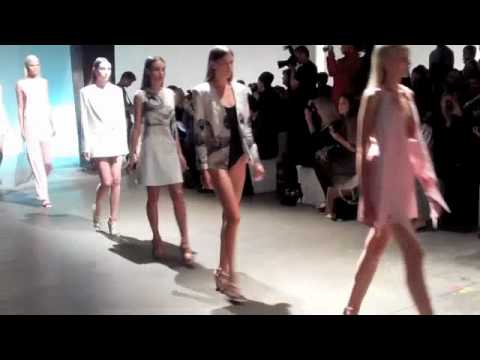 There's always one show during Fashion Week that completely blows your mind.
After Bowie's show on the Friday, I sat at the Rosemount Botanics bar with friends and discussed the week. What show stood out most. For me, it was undoubtedly Michael Lo Sordo.
After the success of his outstanding SS10/11 collection last year, my anticipation was high.
For SS11/12, the Michael Lo Sordo collection was inspired by the silhouettes of the seventies, but this collection took the Michael Lo Sordo girl into a time of her own. It is accurately described as rays of crisp white dispersing dark clouds and morphing into a rainbow of pastels. Gelato blues, pinks and yellows penetrate through the garments.
The hazing smokey design which wafted through a portion of the collection was just perfection, and you can't help but notice the delicate pleating which carried your eyes from first to last sight of each model.
Yes the collection is simply exquisite. But it wasn't just the garments that created the show. Michael knows how to get deep inside the mind and emotions of people – creating an ambience inside the room, where every single person felt completely taken away. Relaxed. Cleansed. Instead of a mash-up of many club songs or old favourites, it was the simple, low key yet dramatic 9 minute tune by Mychael Danna (used in my video above) which totally changed the whole ideal for a fashion week catwalk – and it's a credit to Michael.
Michael Lo Sordo is taking 'timeless' into the future, marking the Michael Lo Sordo girl as the new unforgettable essence of style.
Photography by Michael Greves